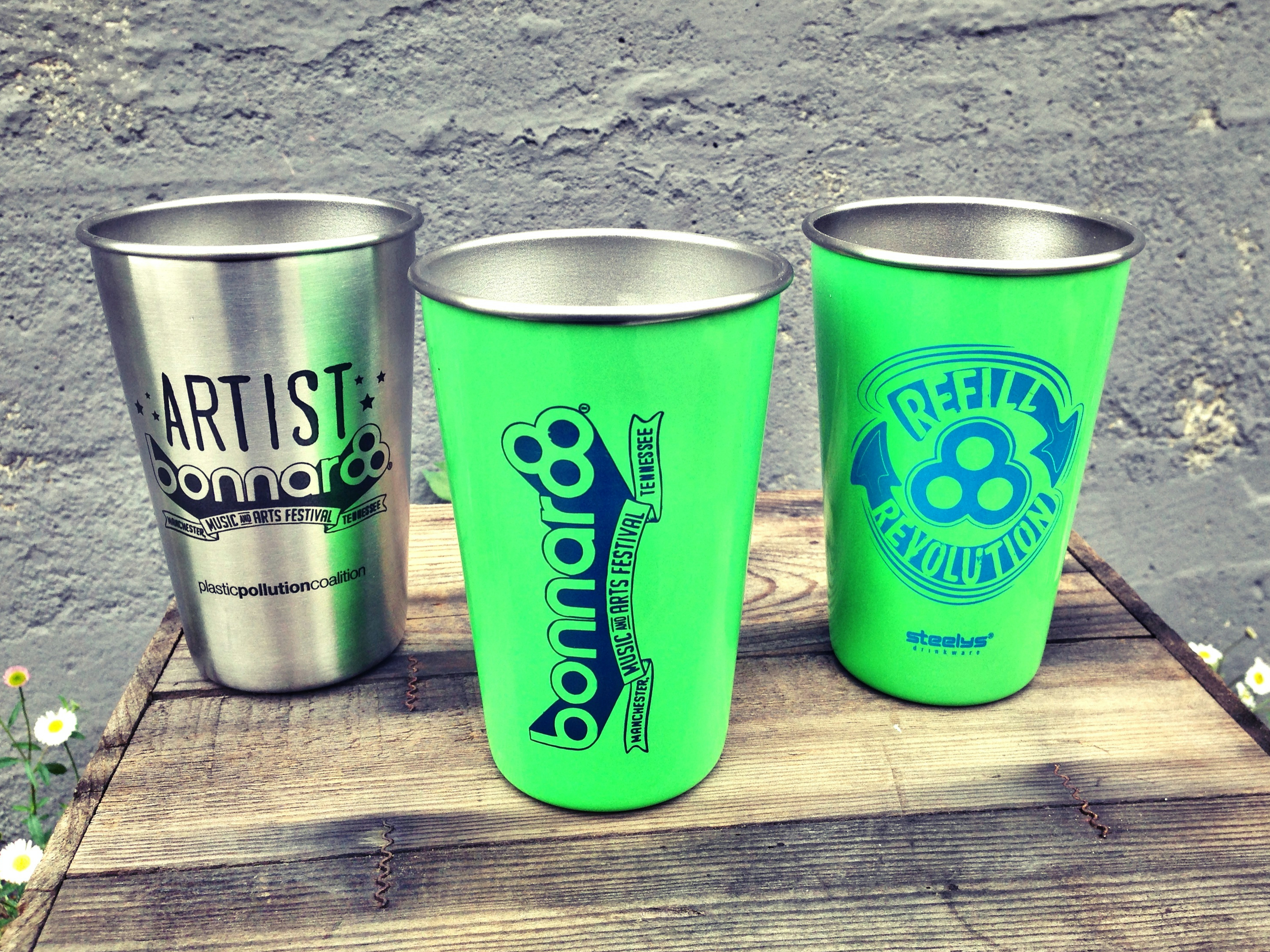 Bonnaroo Music Festival Partners with Steelys Drinkware
and the Plastic Polllution Coalition to Launch Refill Revolution
The Bonnaroo Music Festival, one of North America's largest annual music events, has teamed with Steelys Drinkware and the Plastic Pollution Coalition to launch "Refill Revolution" — a groundbreaking sustainability program to cut waste at the 80,000-person event, held June 12-15 in Manchester, Tennessee.
The festival-wide initiative is designed to keep fans hydrated while encouraging them to rethink plastic consumption habits and reduce disposable cup and bottle waste at the event and beyond. It will encourage fans to join the Refill Revolution by switching from conventional single-use plastic cups and bottles to reusable ones made of food-grade stainless steel.
Festival goers will have access to more than 20,000 affordable, high-quality, highly-reusable Bonnaroo-branded stainless steel water bottles and beverage cups custom manufactured by Steelys. Fans will be encouraged to hydrate with their Bonnaroo Steelys drinkware at free water wells and free filtered drinking water stations strategically positioned throughout the festival site, as well as at participating beverage service venues.
The Refill Revolution keepsake water bottles with carabineer clip carrier will be available for only $5 at all concessions stands and at additional vendor locations. The wide mouth vessel is designed for easy refills at the free water stations, and participating vendors will also accept them for serving select beverage purchases.
The custom steel souvenir pint cups will be sold for $15 wherever draft beer is available on-site. That price includes not just the cup, but an initial serving of beer, discounts on beer refills, plus an insulated scuba foam carrying strap for easy transport. Attendees carrying a Bonnaroo Steelys Refill Revolution cup will get an automatic $1 discount on all brew purchases for the remainder of the festival (except in the Brooers Fest area), so money is saved by fans every time a disposable cup is diverted from the waste stream.
A special Bonnaroo Refill Revolution logo has been produced to promote the program. There will be Refill Revolution waste diversion outreach and education for fans on the main festival grounds — and for artists and industry representatives back stage. Refill Revolution signs and banners will be seen around the venue, and additional engagement opportunities will take place on site, online and via social media.
The goal of Refill Revolution is to raise awareness about waste and to reduce plastic cup and bottle consumption associated with the tens of thousands of beverage servings made during the course of the festival.
"This project is a huge step toward furthering our goal to become as sustainable as possible as a festival," said Laura Sohn, Bonnaroo's sustainability coordinator. "It empowers and encourages fans to take steps to be part of the festival waste solution."
Cold beverages served during hot summer events create a spike in single-use cup and bottle consumption annually. Glassware is typically too fragile to use at events. Single-use plastic cups and bottles can't always be recycled (and when they are, the reclamation process uses large amounts of water and energy). A single steel cup or bottle can be reused thousands of times, saving resources with each reuse over time.
"We're excited to help Bonnaroo ignite the Refill Revolution and showcase creative new ways for individuals and events to approach waste diversion," said John Borg, founder and CEO of Steelys. "Bonnaroo has extraordinary relevance to thousands of music fans and presents a tremendous opportunity rethink the disposable mentality that's engrained in our culture."
"Consumption of disposable plastic cups and bottles has spiraled out of control," said Dianna Cohen, co-founder of the Plastic Pollution Coalition, a global alliance of organizations and businesses working to stop plastic consumption and pollution and its toxic impacts. "The trend towards reusable steel cups and bottles is an important development in source reduction and waste diversion that can make a real impact."
"We believe our fans will embrace this program as we strive to reduce our impact," said Sohn. "Our hope is that we'll raise awareness so that Bonnaroovains will take these home and re-use them to cut daily waste and spread the refill revolution."
As a pilot program, the use of alternative bottles, visits to the filling stations and reduction in waste will all be tracked so the program can be tweaked next year. The goal is to significantly reduce festival waste over time.