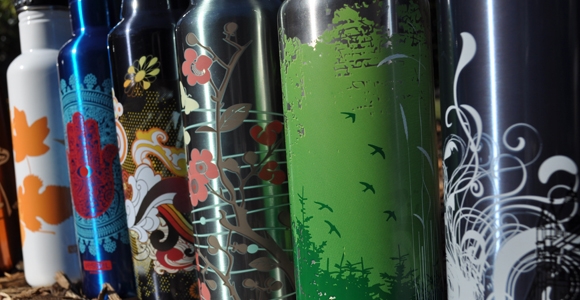 Custom Imprinting
Our beautifully decorated beverage containers are a practical and affordable way to promote any brand, organization or outreach campaign while encouraging healthy hydration and a sustainable way of life.
The quality and durability of our custom imprinted stainless steel bottles, cups, and foodware ensures great long-term marketing exposure, whether you're giving them away or selling them as part of your own branded merchandise mix. Unlike other premium drinkware suppliers, we don't require Steelys® co-branding, so your artwork and brand identity is always the focus of finished goods. Minimum custom orders start at just 4-6 dozen pieces, and blank goods are available as well.
Design & Printing Expertise
We have more than 20 years of experience in design communications and custom production for some of the biggest brands in the world.  With unmatched expertise in printing on stainless steel, a passion for great design, and a careful eye for detail, we aim to deliver magnificent results every time.
Printing Options Available
We are experts at printing beautiful graphics on stainless steel drinkware. Our drinkware and accessories are offered in unpainted silver stainless steel, and many items are also available pre-painted or powder-coated in a range of dynamic base colors. Our standard decoration method is screen printing, but we offer other decorating alternatives and upgrades on select product. Printing options, costs and imprint sizes vary by product. Check individual product pages for imprint option details — or reach out to us with any questions.
Here's a brief overview of printing processes Steelys offers:
Screen Print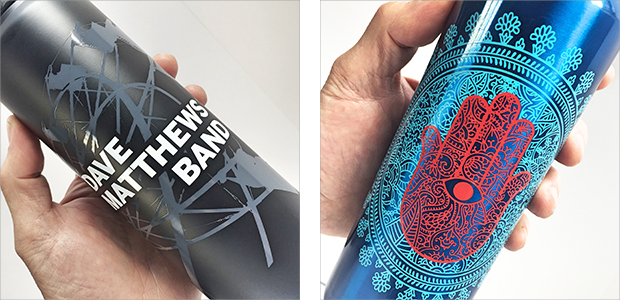 Our standard custom imprint and decoration method is screen print, and most pricing quoted on our site includes 1 color screen print. We can screen print single-color or multi-color art as flat spot colors, with no gradations. Ink is pressed through a screen, which reproduces your graphic onto the item's surface.
Pad Print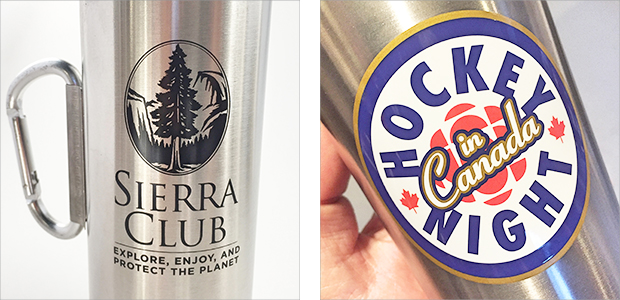 Pad print is a spot-color process similar to screen print. We can pad print single-color or multi-color art as flat spot colors, with no gradations. Ink is transferred to the item via an inked flexible pad of your artwork.
Laser Engrave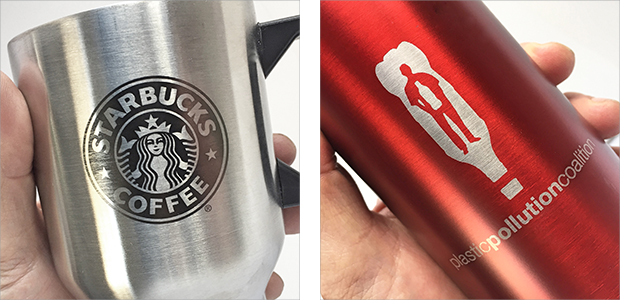 We offer permanent laser engrave imprint upgrade on many products. A laser burns your graphic onto the item. Laser engrave graphics must be converted to single color. On silver steel items, the imprint is a subtle, tone-on-tone effect. On painted steel drinkware, the laser burns off the paint, to render your graphic "knocked out" in the underlying metallic color. The darkness of imprint and color can vary depending on the artwork and the item we're printing.
Heat Transfer and Decal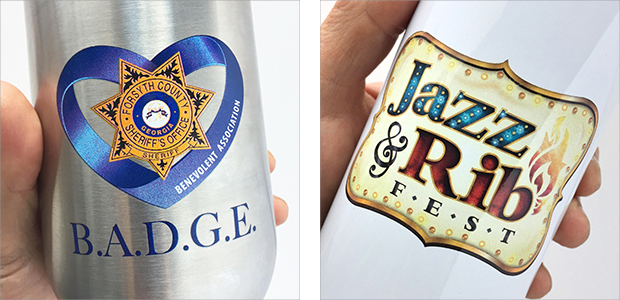 If you have complex multi-color artwork with gradations, our heat transfer or decals are often the best solution. Ink is sprayed onto a transfer film or decal, then heat is used to thermally & permanently bond the graphic onto the item's surface. Available on select items. Check individual product page for details.
Full Color Digital Printing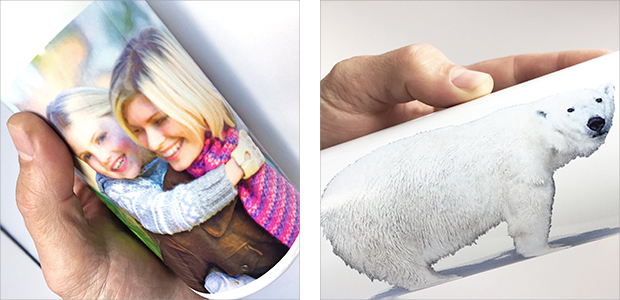 Our full color digital printing processes can accommodate dynamic color gradations and photographic quality images. Digital CMYK printing is available on select items, and it works best on white products.
Acid Etch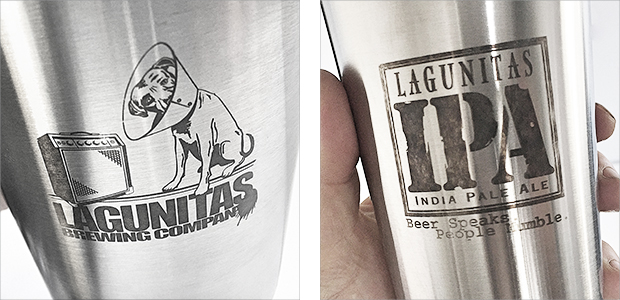 An acid solution is applied over a screen and onto your item to burn your graphic onto the steel. The result is a beautiful permanent imprint with a raw, distressed quality. Available only on select products with longer lead, high-volume orders.
Artwork Guidelines
For details on the type of digital art files we need for printing, please consult our Artwork and Printing Guidelines.
Safe & Responsible Production
As a certified green business, we maintain the highest standards for product safety and responsible, environmentally-safe production — no matter what type of imprint you choose. Our print facilities use only food-safe acrylic paint and toxin-free inks that contain no heavy metals, Phthalates, or VOCs. Our laser engrave process uses only heat and energy to decorate. Screen printing is produced in closed loop facilities, with strict controls that eliminate any environmentally detrimental emissions from getting into the environment. Pre-production and printing work for all in-stock orders is done at facilities in the USA, and all of our finished goods comply to strict California Prop 65 standards.