Printing Guidelines
We offer a variety of custom printing options, and specialize in achieving beautiful graphic reproduction on premium stainless steel drinkware. The success of your printed product starts with having the right type of artwork. This page recaps our requirements and procedures for submitting art.
Vector Art Specifications:
To assure the best quality printing, Steelys requires "Vector-based" Art Files in Adobe Illustrator. Unlike most other formats, Vector Art has the ability to increase in size without becoming rasterized, pixilated or blurred — assuring a clear crisp imprint every time, no matter what the size. Vector art is also easy to manipulate for color separating purposes.
File Formats Accepted:
We accept Vector Artwork in .eps, .ai, .svg, 

or

scalable .pdf

file formats. Make sure all fonts are saved as outlines and all images are embedded.
All files must be Mac compatible.
Multi-color artwork must be separated.
Art must have minimum line thickness of 1 point stroke weight for legibility.
Reverse-out type elements must be a minimum of 2 point stroke weight for legibility.
Please specify Pantone Color(s) to be used for printing. We can typically match any Pantone color required in screen printing. Exact pantone matching fees may apply on some products.
For full color printing projects only, alternative art file formats may be acceptable, including high resolution .psd, .tiff or .jpg files. Full color artwork must be minimum of 300+ dpi at 100% size (higher resolution preferred) and all text must be in vector.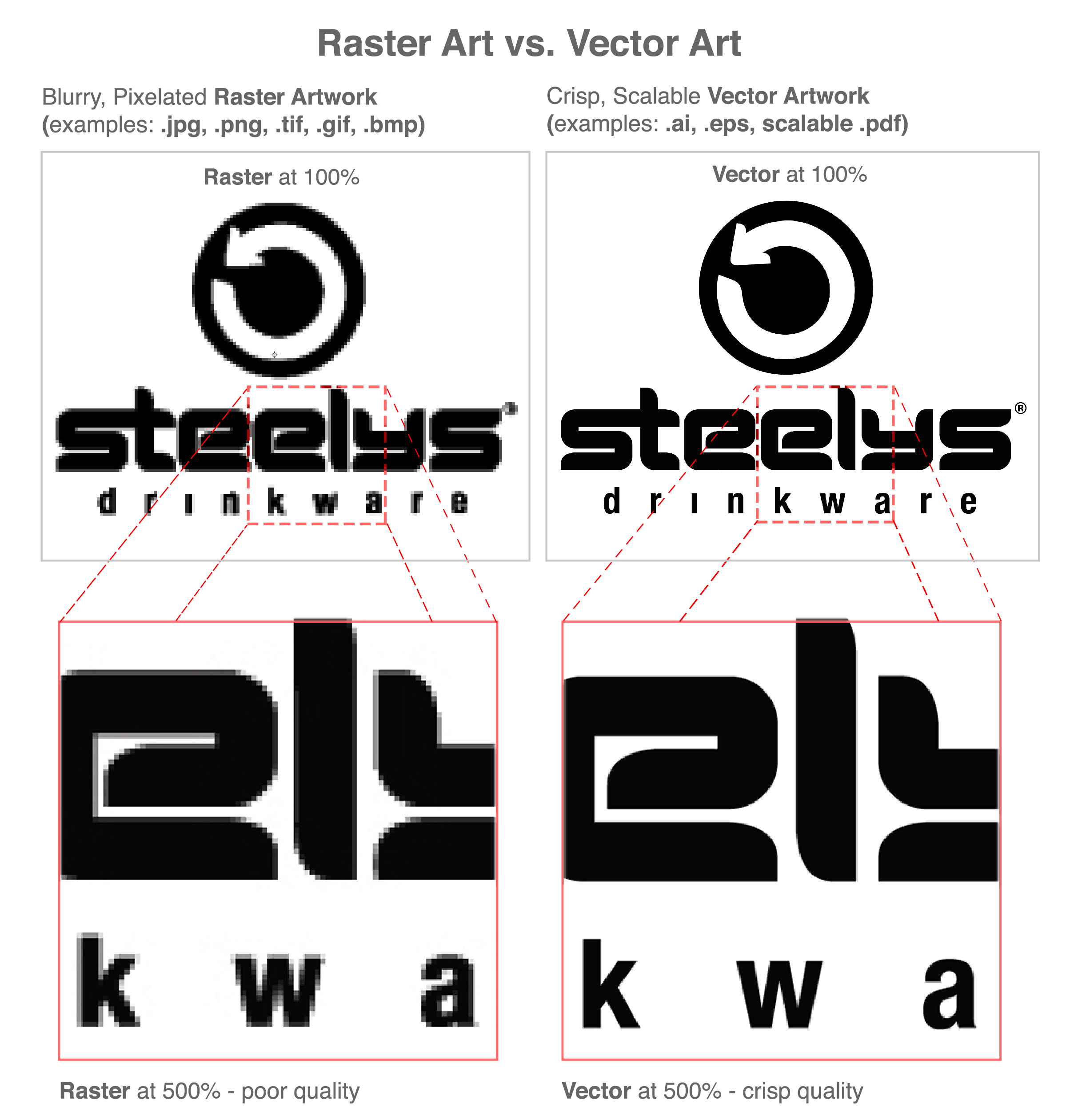 Other File Formats:
Photoshop files (.psd, .jpeg, .tiff, .gif, .bmp) will NOT typically substitute for printable Vector Art, and cannot be used for screen printing or laser engrave projects. However, they may be usable for some full color printing orders, and you can send other file formats for visual reference on screen print and engrave orders.
No CorelDraw (.crd), Publisher (.pub), MS Word (.doc), InDesign (.indd) or PowerPoint (.ppt) files can be accepted.
Please note that your artwork will NOT save as a true Vector file if you simply open it another file format (such as .jpg) and save it into a vector-based program like Abobe Illustrator.  If the original source image is not Vector Art, it will not save as true scalable Vector Art file, even if that graphic is resaved as .ai, .eps, or .pdf.
If your art looks good on a computer screen, but is not supplied in Vector format, it doesn't necessarily mean it will translate well as a screen print.  Resolution requirements for computer monitors are much lower than those required for crisp screen printing on dimensional metal objects.
If You Do Not Have Vector Art 
If no Vector format files exist for your project, or if your art needs alterations, no worries, our talented in-house production team can translate raster files into Vector Art. We can also translate simple photographic images into vector art, although the base art can't be too detailed and we cannot do human portraits, as this work is too complex and time-consuming. We'll need clean, legible reference of your art to start. Then we will redraw your graphics and/or text as vector files. Nominal production fees will apply for our time. We typically complete Vector file conversion work within 48 hours. After we've done the conversion work, you will own the new digital vector art file we create for other graphic uses.
We bill graphics work at $50 minimum charge, or $65/hour. Cost varies based on complexity of production and illustration work involved, which will assess once we review your files. If simple tweaks are needed to existing Vector graphics, or if we just need to set straightforward type, we can sometimes waive production fees, depending on staff time required.
Here are a few examples of vector conversion projects we've done: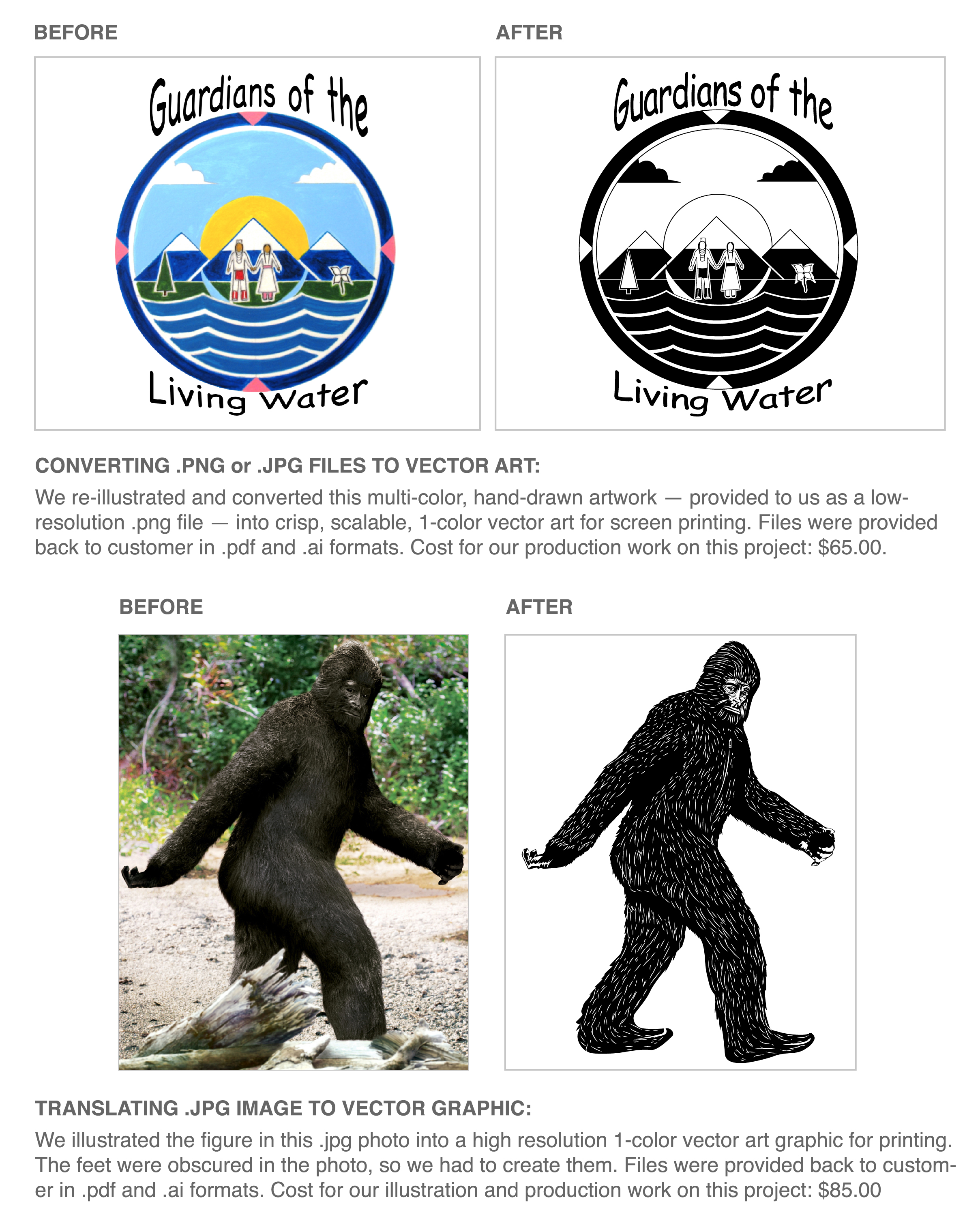 Sending Artworks:
It's a good idea to send us artwork so we can review files and confirm costs for your project. You can get a bid and send artwork to us by simply clicking the orange "Buy Now" button on any product page (or below). You won't actually be completing a full transaction if you hit this button, just starting the process so we can review your art and confirm your costs. Just fill out the brief form that pops up, and attach art files directly to your submission.
You can also email art files direct to Art@SteelysDrinkware.com.  Be sure to reference your project and contact info with any artwork submissions.
Virtual Mock Ups: 
If you have a preference for how to apply your graphics, please provide us with specific instructions regarding desired size, scaling, and art placement.  If you have design capabilities, you can provide your own digital mock ups on any of our products pulled from our website. Imprint sizes vary by product, so please do not exceed maximum imprint size guidelines detailed on our product pages. If you have no design capabilities, we can typically create a virtual sample or mock up of art you provide applied to our product at no charge.  It will show imprint location and size, and emulate how printed product will look.  In absence of clear instructions from customer, sizing and placing of artwork is at our discretion.
Art Layout Proofs: 
Pre-production .PDF file proofs are emailed for approval, typically within 48 hours of project initiation and receipt of artwork. If your project requires fast-turn production to meet your delivery date, if imprint is very straightforward, or if you previously approved a mock up, we may, at our discretion, waive the formal pre-production proof phase and review proof for approval with our internal production team to keep your project on schedule.
Screen Set Up Charges: 
Each imprint color or laser engrave graphic will require a separate screen or digital set up charge. Set charges charges vary by product and by type of imprint. These costs are listed in pricing section of each individual product page.
Imprint Registration: 
Industry standard for multi-color screen printing is up to 1/16" of acceptable variance in registration. We maintain this standard and always strive for tightest registration possible.
Product Samples: 
We have included a range of DIY product images in the "photo gallery" section of our product pages so you can get a sense of product features, details, and quality. All of our product is picked for performance, practicality, style, and quality. All Steelys are made of premium 18/8 stainless steel, with no unpleasant surprises like cheap plastic liners. If you must touch and feel product before you buy, blank or randomly imprinted physical product samples are available on most items, but they may take a week or more to arrive and charges may apply on more expensive items. Please provide your UPS or Fedex freight service account for shipping out your samples.
Production Times: 
Normal production time for domestic orders up to 1,000 units is 7-10 working days after written proof approval, and receipt of payment. Ground freight time from our printing facilities on the West Coast or Midwest is in addition.  We can sometimes expedite production, but it depends on our current workload, and rush fees might apply. All orders are subject to inventory availability. If a quicker turn-around is needed, please advise us immediately and we will do our best to expedite schedule, if possible.
Trademarks & Copyrights: 
Trademark, copyright and registered designs are imprinted for authorized users only.  When orders are manufactured to customer's specifications, the customer shall hold Steelys Drinkware and its affiliates harmless from any liability for trademark, patent or copyright infringements, proprietary rights violations, invasion of privacy or other personal or intellectual property rights infringements or violations. All materials submitted by the customer for use by Steelys Drinkware to produce items ordered are considered by Steelys Drinkware to be in full compliance with all applicable laws in regards to trademark, service mark, copyright, patent, or similar protection, and the customer has all of the legal rights and authorizations to grant Steelys a limited license for the express purpose of reproducing such materials on the products. It is the customer's responsibility to provide appropriate legal lines to Steelys for inclusion in the art.
Trademark Notice: All logos shown in our catalog and website are for illustrative purposes only. No attempt has been made to infringe on copyrights and trademarks. The logos do not imply endorsement by the owners of the artwork/design/trademark, that such items were ever produced, or that the owners expressly authorized any items with these specific logos for sale to anyone.